thank you for the music.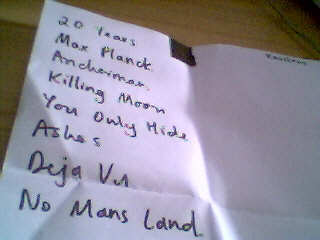 yes, this is a setlist! and yes, that writing is the same as on all sfk cd booklets. he.
i'm underslept, overexcited, dehydrated, underfed and my feet hurt. - post-concert hangover, i'd call it.
the concert rocked. totally. it was as signifcant to me as the first time seeing u2. yeah, quite unbelievable, i know.
fantastic location, tiny, tiny, tiny club. super-tiny. capacity maybe 500, 2/3 full. we were 5 sfk fans (probably more after they were done with their show), we found each other, stood right at the tiny stage (like a metre away from the band) and rocked together. a short, but powerful, guitar-heavy 40 minute set was played, with a surprising amount of old songs. it was awesome, totally overwhelming, because it was so good, something i had waited for for so long. i cried during an acoustic version of "you only hide". - and yeah, we later chatted with the band, who was down-to-earth, super-friendly and cool. and good grace, are these people attractive! the artsy pics on the cd covers don't do them justice.
just as predicted, i wasn't cool: i took pictures of me with paul dempsey. he.
those plus a detailed report, soon. i need some brekkie now. and some music. yeah: sfk. what else? :)
(hmmmm!
something for kate visual tour diary europe 2004.
photos of karlsruhe, soon? - surely, yesterday's concert was a lot smaller than any depicted there.)